Facilities Information
?Check-in/out:   15:00 / 11:00 
?Non Smoking entire area (There is smoking area) 
?22 rooms in total
?Number of persons /room:   1 to 4 persons
?Maximam occupancy:   66 persons 
?Meal Hour: Dinner  18:00,19:30    Breakfast  8:00,8:30,9:00
?Meal Menu: Japanese dishes for dinner and breakfast
?2 big public bath, 2 private bath (Indoor) 
?Parking lot: 22 cars can be parked 
?Bathing Hour:  14:00?1:00am,  5:00am?10:00
Rooms
There are 6 buildings, 22 rooms in our premises that is over 13200 ?.
?ASHIKARISO? have room with open air hot spring,?SHIRANSO?,?HANARE?old 2 villas of imperial family, ?SHUNPUSO?was dismantle and reconstructed old Iwasaki family villa, ?KAKUMEIKAN?which is renewaled in 2017.From each building, guest can see our garden and enjoy extraordinary elegant view.
Sprouting in Spring, dark green in Summer, Autumn leaves in Fall, Silver snow in Winter….
Our guests can feel and enjoy the changes of the season, makes you breath deeply and feel calm.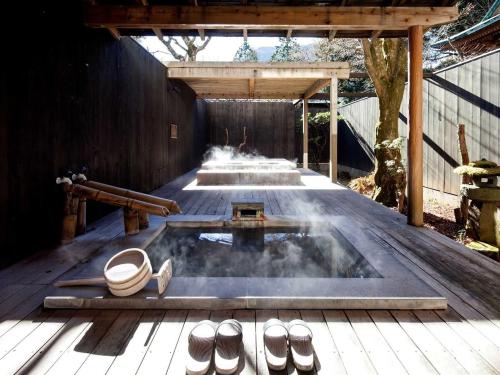 ?ASHIKARISO?
Built in 1962 (Showa 37). Renewaled in 2008, 2010.
This building is for adult guest, it has 4 rooms to accomodate 2 persons per room.
3 rooms has private open air hot spring (in 3 rooms, family room also offer foot bath).
This building is closest to "Ashikari no Yu"(Building for hot spring) , guest can enjoy private time and enjoy hot spring and unwind.
HANARE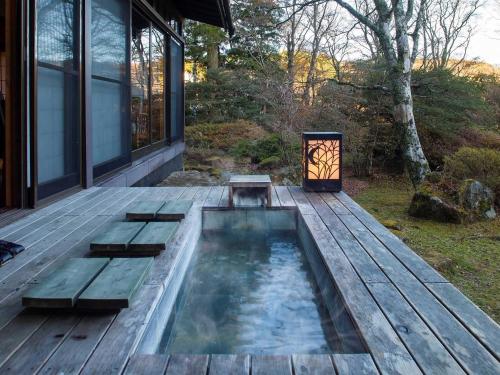 ?SENSHINTEI?
?In 1887 (Meiji 20) ,the Imperial Villa (Shokaku Sanso) was built on the premises of the hotel, and the Emperor Taisho was staying in this room at the age of 16. For furniture, Taneomi Soejima, one of three major Japanese caligrapher's art work "Senshintei" is displayed, it quietly sit there as time passes. Entrance, 2 connecting Japanese style room, tea ceremony room and footbath with garden view welcomes you.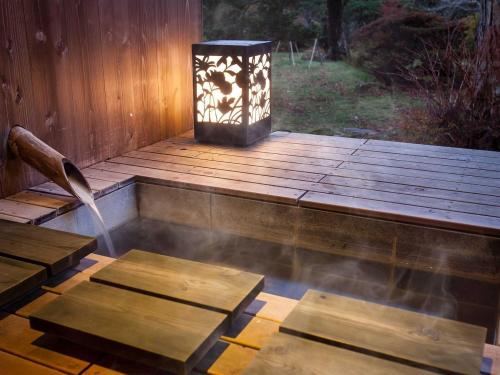 ?KYOKOSOU?
?In 1923 (Taisho 12), a Imperial member made a visit to Imperial villa (Shokaku Sanso), at that time this building was extended and reconstructed to this location in 1931 (Showa 6). Entrance, 2 connecting Japanese style room and footbath with garden view welcomes you. Guest can spend luxury time, just sit there, enjoy authentic Japanese style garden and feel the nature and history. This is Hanare (detached room) and has wide space, this is reccomended to family and group.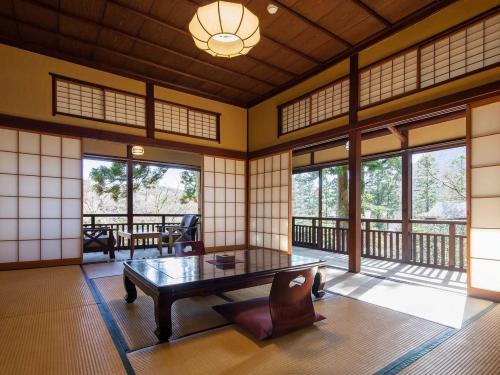 「SHUNPUSO」
:1925 (Taisho 14 years) total 6 rooms which was reconstructed to current location. This building used to be villa for Iwasaki family from Mitsubishi zaibatsu.There is indoor private hot spring (traditional small-sized bathtub) with sourced springs in all rooms. 「Tokiwa」「Kumoi」are surrounded by corridor and has unique atmosphere, 「Wakamatsu」「Kozue」has 2 Japanese style room connected,「Chigusa」「Akebono」has entrance area and one room, and most affordable room in this hotel.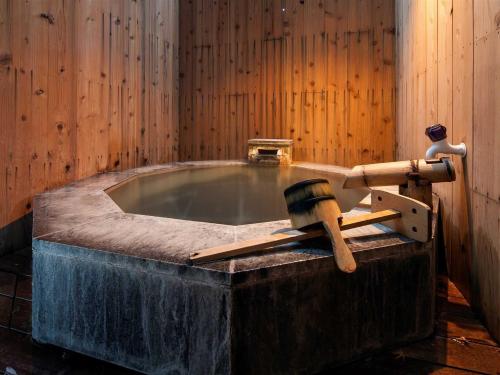 ?SHIRANSO?
?1936(Showa 11) , in 2008 and 2010 all 6 rooms renewed and has cozy atmosphere. 3 rooms located on 1st floor has private open air hot spring. Guest can enjoy bathing without being bothered.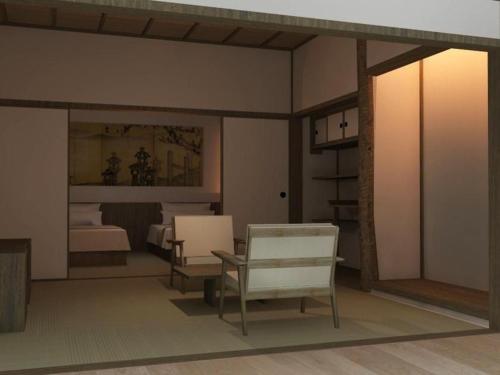 ?KAKUMEIKAN?
?Built in Meiji era. This building will be renewaled and opened in Spring in 2017. 2nd floor has nice view and 4 Japanese style rooms.
Ground floor has front desk, lounge with service drink and shop.